John Bull Garage®
John Bull Garage develops products by car guys for car guys.

John Bull Garage™ develops products by car guys for car guys. Lucky for them, InventionLand Motor Speedway™ is full of car guys. It was only a matter of time before the two groups met and joined forces.
John Bull sells products designed to add automotive fun to garage spaces. Davison's Creationeers™ already designed their own workspace in InventionLand™ and were well prepared to develop a series of products that fall into John Bull's line.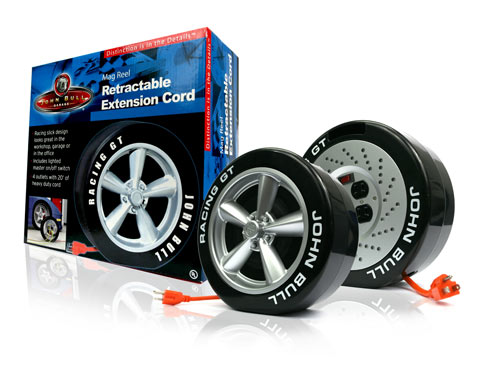 From this relationship the Straight 6 Surge Protector was born. Not a strictly garage-only product, the Straight 6 features an aluminum valve cover design with a wrinkle finish, perfect for spicing up a workspace or bringing an automotive buff's interests to the office.

Looking to organize a workspace, Creationeers created two unique car-themed items - the Steering Reel Cord Storage and the Mag Reel Retractable Extension Cord. The Steering Reel combines a classic wheel design with workshop and garage functionality. The cord storage device holds up to 100 feet of 16 GA extension cord and mounts directly to any wall. As an added bonus, it's equipped with a "suicide knob," making cord storage simpler than doing doughnuts.
The Mag Reel combines classic wheel design with racing slick to brighten any garage and workspace with a touch of the auto world. With four power outlets, 20 feet of heavy duty cord and a "suicide knob" reel, it's built for the car guy.

Finally, Creationeers created Fill 'er Up Bookends to highlight the office, living room or study environment. They're the timeless antique gas pumps, stamped from steel with rubber feet traction.
With teams of people in InventionLand with spirit and love for what they design, fun projects like the ones designed for John Bull flow easy.