Your Hurdles
You know what you want. You know what you need. But how does your company overcome the hurdles standing in its way?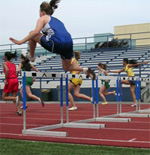 Hurdles have long been the seen (or unseen) obstacles that have prevented corporations from being able to achieve their goals. Hurdles may be within a corporation's control or they may be beyond their capabilities to solve. Countless corporations have not been able to overcome the hurdles they have been faced with. Unfortunately, this has cost them their prosperity.
From our interaction with corporations, we have identified common hurdles that have impeded their ability to achieve their goals.
Below are a few of the obvious hurdles corporations experience:
We lack:
Revenue/funding
Sales/customers
Products that offer quality/value
Leadership/vision
The willingness to change
Talented employees
Experience/knowledge
A game plan or the ability to execute it
Competition
As a corporation that develops product-lines for its clients, Davison International stays true to the core belief that you attract attention and desire when you offer something others don't. With a new and constant evolving product-line, you can expect to attract:
Funding/venture cycle/seed money to grow your business
Top leaders from other corporations
Customers willing to buy your products
Receptiveness to change
Quality employees
Competition
Contacting us to meet with our team is the first step in identifying and overcoming hurdles in your company's quest to succeed in its industry.