Our Method
Client Meeting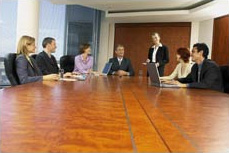 One of the most important parts of our method is meeting with our clients once a relationship is underway. We have found this to be one of the best ways to ensure that clear, concise information is exchanged between both firms.
During client meetings, our goal is to:
Learn about the client.
Learn about the industry.
Learn about the client's product-line (interact with their samples).
Discuss the client's competitors.
Identify where the client needs assistance.
Introduce Davison International.
Take the client through a tour of Davison International.
Brainstorm new products and categories to focus on.
Identify timelines for new products.
Verify the client's commitment to developing new products.