Our Method
Cold Eyes Input Method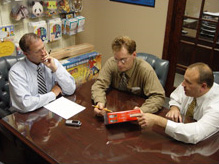 A great way to receive feedback on the direction to take in a particular industry is from the people who buy and use consumer products themselves. They offer input from the cold eyes perspective, the very source that drives in revenue for an organization selling products.
Our cold eyes input method:
Identify problems consumers experience for which there are no products available to address the problem.



Find out about our clients' products and interact with them to identify their pros and cons.
Discover the products of our clients' competitors and have the group interact with them to identify pros and cons.
Compare our clients' products with their competitors' products and identify the pros and cons.
Have the group suggest features they would like to see in a product that would entice them to buy it.