Our Method
Brainstorm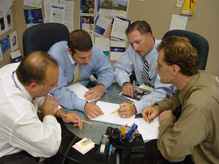 The power that comes from a group of minds collaborating on new ideas is unmatched. Our goal is to take the information from our client meetings with you and add creative and environmental influences.
During the brainstorm stage:
Creationeers™ are assigned to review corporate (client), industry, focus group, and competitive information.
Creationeers™ interact with the client's (and their competitors') products.


Creationeers™ create product concepts in the environment related to the corporation's industry.
The new concepts are committed to paper (documentation).